By Justin Gray A Cobb County woman was charged over $90,000 for a new roof. Marie Kleber, 82, of Marietta, told Channel 2 consumer investigator Justin Gray that the loan she took out will likely outlive her. "By the time it was paid off by my grandchildren, oh, it would be almost $200,000," Kleber said. She told Gray that her troubles began last fall when she had an Erie Home salesman come out to give her a quote. "He says it'll be about $98,000. I said, 'Oh my God, I can't pay for it,'" Kleber said. She said the salesman […]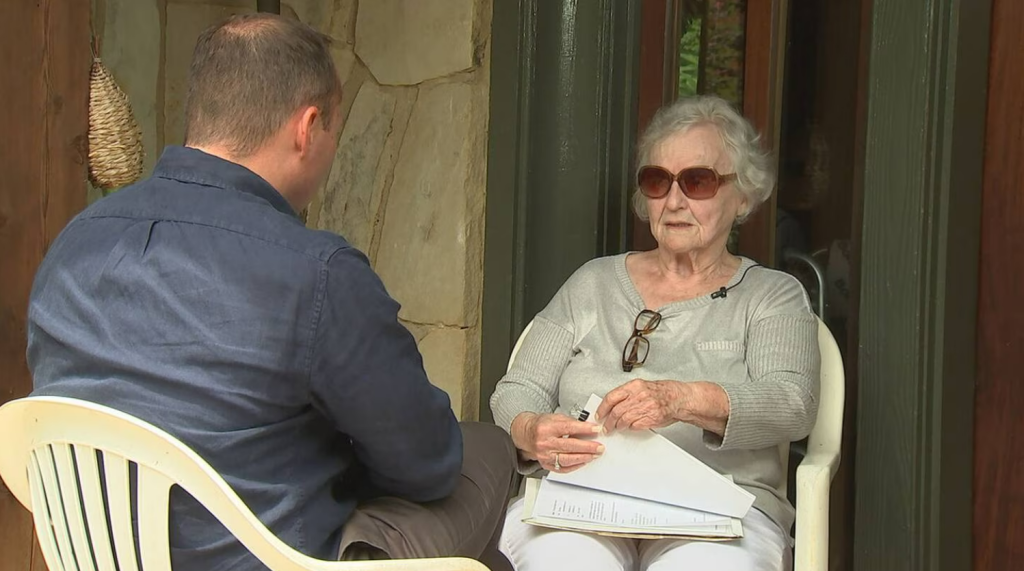 By Justin Gray
A Cobb County woman was charged over $90,000 for a new roof.
Marie Kleber, 82, of Marietta, told Channel 2 consumer investigator Justin Gray that the loan she took out will likely outlive her.
"By the time it was paid off by my grandchildren, oh, it would be almost $200,000," Kleber said.
She told Gray that her troubles began last fall when she had an Erie Home salesman come out to give her a quote.
"He says it'll be about $98,000. I said, 'Oh my God, I can't pay for it,'" Kleber said.
She said the salesman wouldn't take no for an answer.
[HAVE A STORY FOR 2 INVESTIGATES? : Submit your tip here]
"He said, 'Well, can you make a down payment?' I said, 'Well, I just got my Social Security check. I could pay $1,600.' And he says, 'Well, take that,'" Kleber said.
Kleber said she was never shown a contract or interest rate for the financing but was pushed to sign her name on an electronic device.
Nearly one year later, she noticed the roof was separating from the house and began pressing Erie to send her a copy of the contract.
When it arrived, she was stunned to find out the interest rate was nearly 10%.
"If you'd seen this, you would have never signed your name to it," Gray asked Kleber.
"No, I would not have. I really would not have. Not knowing that it was going to be a 10% mortgage," Kleber said.
Channel 2 Action News reached out to Stephen McGrew with Academy Roofing to get another quote for Kleber's home.
"There's no way that an asphalt shingle roof should have been 90-something thousand dollars for this house. Not in this Atlanta market, not really in any market here in the United States," McGrew said.
McGrew ran Kleber's home through Academy's computer modeling system and looked a satellite images.
"Looking at the overall roof and running it through our own software, and looking at kind of what the market would be for a roof like that, it was about three times as much as what it should have been," he said.
Erie Home rates just four out of five stars on the review site Yelp, with multiple consumers pointing to high-pressure sales tactics.
Gray reached out to Erie Home multiple times and visited a local office.
The company told Channel 2 Action News in a statement:
"At Erie Home, we pride ourselves on delivering the highest-quality service to all customers. We operate under a consistent pricing structure, which is based on the size, condition, materials required, and complexity of the job, and reflects the value of the services, quality, and warranty we provide."
McGrew said Academy always recommends homeowners get multiple quotes and warns consumers to walk away from high-pressure salespeople.
Kleber told Gray she believes the salesman who came to her home saw her as an easy mark because of her age and beautiful home. A home she's now considering selling.
"I really don't want to move. But it's just out of sight," Kleber said.
Roof maintenance are vital for protecting and maintaining the integrity of your home's roof. A well-maintained roof is essential for safeguarding your property from the elements, such as rain, wind, and snow. Professional roofing services offer a range of solutions to address roofing issues. This may include roof inspections, Universal Roofs roof shingle repair in Toronto , re-roofing, and installation of new roofing materials. If you liked this information and if so, here you can see the multiple service options to solve your problem https://universalroofs.ca/ By engaging expert roofing services, you can ensure the longevity and durability of your roof, preventing leaks and potential structural damage. A sturdy roof not only enhances your property's value but also provides peace of mind, knowing that your home and belongings are well-protected from weather-related challenges.